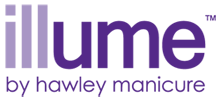 Cutting edge raw materials and packaging are sourced from major suppliers around the world and formulated to exacting production standards to bring you the Illume Fusion Monomer and polymer range.
This revolutionary new Acrylic system has created a sensation in Australia and is now taking on the world with export markets in Ireland, the UK, France and South Africa, and more on the horizon.
The unique formulas and PPS™ technology of Illume enables the technician to produce the perfect nail enhancement every time and damage to the natural nail should now be a thing of the past.
A key element in the Illume range is the specifically designed and uniquely formulated illume™ Activate™. This amazing new product penetrates the nail plate and surrounding tissue to help remove contamination and allow the cuticles to be pushed back with ease. This then allows the gentle and safe removal of the True Cuticle, effectively eliminating the need for harsh filing and subsequent damage to the natural nail.
The polymers in the Illume range have superior clarity and a variety of colours & styles to choose from, enabling the operator to custom design the service for each individual client. With Non Yellowing properties, self levelling formulas and ease of use, the illume™ Fusion™ acrylic system is certainly a world class product.